Our congregation is a member of the Evangelical Lutheran Church in America, the largest, most theologically progressive Lutheran denomination in the United States. Learn more about the ELCA here.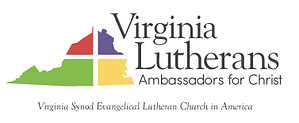 We are also a member of the ELCA's Virginia Synod, our regionally-focused collective of ELCA churches. The Virginia Synod provides oversight for our congregation and supports a number of ministries that no one church could support alone, such as GraceInside Prison Ministry, enCircle (formerly Lutheran Family Services of Virginia), Roanoke College, Camp Caroline Furnace, and state-wide youth programming. We support all these ministries financially and spiritually.
Learn more about the Virginia Synod, ELCA, here.
We also give financial and material support to various world-wide ministries of the ELCA. We give to the Good Gifts program to provide development resources abroad. Our quilting group make quilts for Lutheran World Relief to distribute. We take up collections for the ELCA World Hunger Appeal and have participated in various campaigns for development abroad, such as the Malaria Campaign.